Introducing Gems' New Non-Contact Radar Level Sensor
Available in a compact design constructed from chemically inert PVDF material, the Gems' non-contact radar sensor works in tanks up to 15 meters (49.21 ft) deep! It's simplified programming and setup via Bluetooth® connection makes installation quick and easy. In addition, it can run diagnostics to view signal strength and tank obstructions. Learn more about Radar Technology and its benefits over other sensing technologies.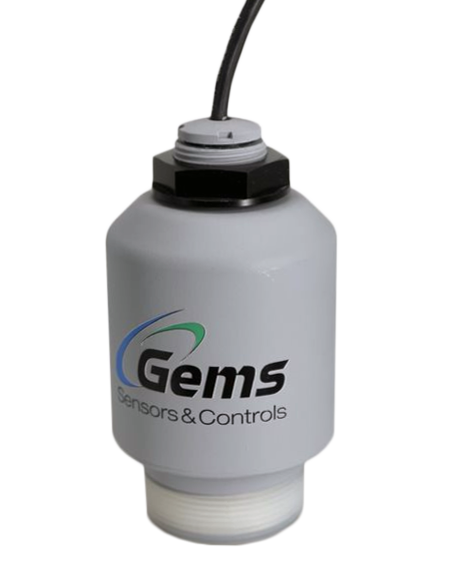 Benefits of Gems' Non-Contact Radar Sensor:
Non-contact design means no media ever encounters the Radar sensor. This eliminates the need to worry about material compatibility between the media and sensor components.
The non-contact design is by default a no moving parts solution, which eliminates the potential for any mechanical failures from a float-based sensor.
The non-contact design also eliminates the need to use large floats with long stems, decreasing shipping cost and shipping transit time. This also makes installation time a fraction of the time saving countless labor hours.
Infinitely configurable to match any tank depth up to 15m eliminates the need to source multiple level transmitters, reducing inventory and sourcing costs.
Also, since it never comes in contact with the media, there are no issues with debris coating or causing a float to get stuck.
Radar through the air technology is a very accurate sensing technology and can detect liquid level within 5mm, with no effect on its accuracy based on changes in temperature or pressure.
Radar technology is not affected by condensation or dust in the air like ultra-sonic based sensors.
Sensing Technology Comparison
Gems non-contact radar level sensor can be used in a wide range of industrial applications:
With a beam angle of 8 degrees it can fit within most tanks and be configured to ignore obstructions within the tank. Learn more about how to calculate the beam width at certain tank depths.